You are selling your home and you're busy getting ready for open houses and private viewings. You know you have to organize, clean, declutter, and clean some more. This is a daunting task for anyone, but when there are kids living in the home with you, this task can seam near impossible.
It's time to take a good luck around, make another list, and get to it. By following some fairly simple and inexpensive suggestions, you can hide the inevitable messes that come about during day-to-day life with kids.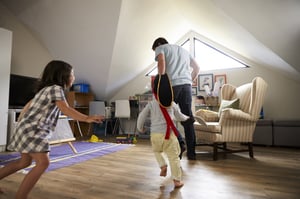 Before you get started trying to determine where to put stuff, take the time to downsize. Go through your kids' books, games, toys and papers to determine what you must absolutely keep, what you can donate, and what you can get away with throwing away (hopefully without any tantrums). Often times we keep games with the expectation that we might play it again "someday", only to realize later that pieces are missing. Go through the kids belongings and weed these things out. There's no use in packing this stuff up and moving it later if your kids have outgrown it or its missing pieces.
Also, take the time to pack items they will not necessarily need in the immediate future. If you're planning your open house in the spring or summer, pack away their winter clothes and snow toys.
For the most part, you might be able to get away with using things that you already have in your home to hide or store things in. Start with you attic and work your way around the house using the tips below.
Attic Space: Store the off-season toys and clothes in boxes that are compact and ready to go when the time comes to move. Are you kids outside a lot right now playing in the nice weather? Perhaps you can store some of the board games away that get more use in the winter months.
Under Stairs: If you have stairs leading to your basement, many times there is available space you can smartly (and sneakily) utilize. Here you can stack storage bins or moving boxes. It might be a good idea to use see-through rolling storage containers in this area to ensure easy access should you find yourself trying to find that most favorite toy you inadvertently packed away.
Under The Bed: Take some time to completely clear out anything that is under the bed. You will be sure to find some of those missing socks and action figures your kids say are gone forever! Once the space is clear, keep empty see-through storage containers here. Since it is completely unrealistic to think your kids will not want or need their favorite toys, books and activities during the time you are trying to sell your house, this area will come in quite handy. If you have an unexpected showing or the open house is a day away, you can easily gather the miscellaneous kids' belongings that are hanging around and throw them in these containers. They will be stored out of the way but also remain easy to get to when it's time to bring them out again.
Closets: Closets can hide a number of items and still look neat and orderly. Use the ever-handy storage boxes in the back corners and put in a shelf or plastic organizer to store shoes, smaller boxes and backpacks. This way you have a safe and organized place where you can keep toys, boots, and even piggy banks that you do not necessarily want to leave out when you have strangers in your house.
Storage Ottomans and Lift-Top Coffee tables: Many of us have ottomans and lift top tables in our home that are filled with old magazines, movies and books. Organize and downsize first, then use this space for easy access items for your kids. This is a great place for coloring books, crayons, puzzles and maybe even school projects.
Book Cases: You can transform a messy and unorganized bookcase into a neat and tidy storage area by using cute wooden or wicker baskets on the shelves. Small toys, dolls, books and magazines can quickly be thrown into the baskets at the last minute to stay hidden, but remain within reach when it's time to pull them out again.