Moving into a new home is a busy and exciting time. You have spent months going through the home buying process and getting ready for the big move, but often times it is not until we are actually leaving our old home and moving into the new home that reality sets in. You have moving boxes, empty rooms, cleaning supplies, and a whole lot of work ahead of you. When looking at what lies ahead, you are beginning to realize this house might not feel like "home" to you. You might actually be wondering if it ever will. This does not mean you are not excited about your new home; you might just need to focus on ways to help make it feel like home.
Before you even move in, create of mental picture of how you want your rooms to look. It might be helpful to draw out a floor plan so when your furniture and large items are delivered, you know right where they are going.
If time allows before you set up your rooms, give the walls a fresh coat of paint. Painting will not only help freshen it up, it will add new life to your rooms while incorporating a bit of your own personality with the colors you choose.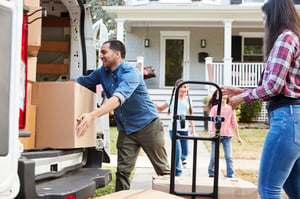 If you have children, consider getting their bedrooms in order first. Change can be very difficult and sometimes scary for kids. Having their rooms set up with their belongings, especially their beds and favorite pillows and blankets, will help them settle in and adjust quicker, allowing you more time to unpack and organize.
Hang artwork and family pictures. Take out your favorite things that were special in your old home or childhood home. Having your framed favorites on the walls and mementos around you as you are busy unpacking will help lend a homey feel.
Cozy it up with softness. Add throw pillows and throw blankets to your couches and chairs to bring in a sense of warmth and comfort.
Bring a little bit of nature indoors. Display some fresh cut flowers on your kitchen table or coffee table; add some fresh herbs to your kitchen windowsill or around you sink; add some potted plants to your living areas. This bit of nature will not only look cheery, but it will bring a sense of freshness to your new home.
Assess your lighting. If your home has fluorescent lighting, replace bulbs with soft white lighting to remove the harshness. If your rooms are dark, add extra lighting by adding table or floor lamps. Replace your regular lights with dimmers so you can control how bright the rooms are during the day also so you can create warm lighting during the evening when you are relaxing.
Create a relaxing atmosphere by lighting your favorite candle or diffusing your favorite oils. Oils not only smell nice, but they can have the ability to promote a sense of peace and calming.
As the moving boxes are coming in, try to unpack as much as possible as soon as possible. Seeing moving boxes scattered about will cause more anxiety and cause you to feel even more overwhelmed. As you are unpacking, get rid of the empty boxes for a feeling of accomplishment, and keep the full boxes in one room only so you are not constantly looking at them or tripping over them.
Spend time in each room. Determine your favorite rooms and get to know each aspect of your rooms. Cook a meal in your kitchen and watch a movie in your family room. Spending time in each room will help you feel connected to your new home.
Some people have no problem adjusting to new places, and others may find it very difficult. If you're leaving your family home or moving away from family for the first time, perhaps your moving is proving to be very difficult. Do not allow yourself to get disheartened. Allow yourself to embrace this new chapter and make new memories. You will soon find yourself getting more and more comfortable with your new surroundings and calling your new house your home.