Fall is often a busy season as teachers, children and parents find themselves getting back into their school routines. Swimsuits and flip-flops get pushed aside and hoodies and winter boots make their debut. As you prepare to enjoy the crisp air and bonfires, it's a good time to start your Fall home maintenance to make sure your house is ready for the decreasing temperatures.
Outside Your Home:
Patios: While it is tempting to leave furniture outside during the winter, it's worth the time it takes to store your outdoor tables and chairs away. Leaving them out will shorten their life span and you will find yourself replacing your set sooner rather than later. Clean them off well, store them in your basement or garage, and cover them to prevent any damage.
Grill: If you are not planning to use your grill, be sure to store that away also. Take the time to clean the inside and the grates well, making sure to remove the grease and food remnants. Unplug the tank (tank must remain outside) and store the rest of the grill inside. If you are leaving the grill outside for the winter, be sure to place it close to your house or garage and cover it securely with the tank disconnected.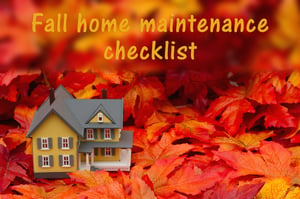 Clean Your Gutters: After the leaves have fallen, carefully check your gutters for any debris that has the potential to cause an obstruction. Use the water pressure from your garden hose to ensure free flow of water through your gutters. If necessary, use an old spatula or gutter cleaner to remove debris then use the hose again to check the water flow. Cleaning it now can prevent ice dams and overflow once the ice and snow accumulate.
Drain Faucets and Hoses: Once the temperature starts to drop, you need to turn off ALL outside faucets and outdoor sprinkle systems. To do this, shut off ALL valves inside and open the outdoor faucets to completely drain the water within the pipes. Drain your hoses and store them inside during the winter to prevent cracks in the freezing temperatures. If you have a sprinkler system, be sure to have that winterized also.
Lawn Care: Normally people worry about their lawn care in the spring, however late summer and early fall is a perfect time to reseed any bare patches. It is also the perfect time to aerate and fertilize your lawn, cut the lawn shorter than you normally would, and mulch your flowerbeds to protect the roots from frost.
Snow blower: More than likely, you have not looked at your snow blower since the warmer weather of spring started to roll in, but now is the time to be sure your snow blower is ready for the first snowfall. Don't wait until freezing temperatures to check for problems with your snow blower!
Inside Your Home:
Carbon Monoxide and Smoke Detectors: Before you start with indoor winter projects, check your smoke and carbon monoxide detectors and change the batteries in both. You will also want to check your fire extinguishers and make sure they are not only accessible, but make sure your family members know where they are and how to use them.
Furnace: Before you start relying on your furnace to keep your family warm, have it inspected and have routine maintenance performed, including changing the filter and having the pilot light inspected.
Fireplace and Chimney: Chilly temps often lead to cozy fires. Before lighting your first fire, have your chimney and fireplace cleaned. Creosote and soot build up can lead to expensive damage and life threatening house fires, most of which can be avoided with a thorough cleaning and inspection.
Radiators: Air will sometimes get trapped in hot water radiators—be sure to bleed these radiators by turning the valve (with a radiator key or a flat head screwdriver) until the water starts to bubble out. This will ensure all parts of the radiator fill with water and will provide heat evenly throughout your home.
Insulate your pipes: Prevent your pipes from bursting this winter, causing thousands of dollars of damage, by insulating them this fall.
While some of these tasks are simply to make your life easier and possibly save you money, some of these could prevent serious damage and even save a life. Spending the time now to go through the list and perform the necessary tasks that could keep your family safe as fall leads to the harsh temps of winter.