Truth be told, there are a variety of reasons why a house might stay on the market for an extended period of time. Any time a house remains unsold for 90 days or more, real estate agents consider the house to be "stale". Once this happens, the selling price typically drops because potential buyers look at the listing and assume there is something wrong with the property, bypassing it all together. However, the property really could be a gem in disguise and you need to determine why the house isn't selling.
Quite simply, one of the biggest reasons a house stays on the market is because the asking price is just too high. Overpricing is not going to get the seller a higher price. In fact, it will not only prolong getting an offer, but it will often lead to the seller having to lower the asking price in order to sell at all. You need to trust and take advice from experienced real estate agents in order to come up with realistic pricing for your property.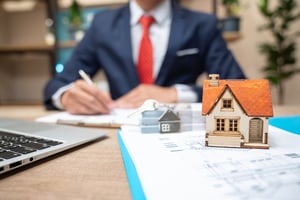 This brings us to the next point, which is to make sure you have a trusted and experienced agent. Don't choose the first agent you find online. Be sure to take the time to interview them and be sure you feel comfortable with them. Without an experienced agent guiding you, not only do you run the risk of overpricing your home, but you may also find your home isn't getting the exposure it needs in order to sell.
Another common finding is the house either is or was previously FSBO (For Sale By Owner). These listings do not get the exposure needed to generate interest and they typically stay on the market for months.
Sometimes the house is just in bad shape or shows signs of neglect. Unless the buyer is specifically looking for a house that needs TLC, buyers tend to stay clear of houses that are in poor condition. Sellers are advised to go through the home and correct any problems it has, such as leaky faucets, mold, cracks in the basement, etc. If the seller is not willing to do that, they need to offer a buyer credit or price the home accordingly.
The same is true even if the house just needs cosmetic care. While a buyer will probably want to add their own touch to the home once they move in by changing the wall color or style of flooring, a buyer doesn't want to purchase a home that has peeling and outdated wallpaper, crayon marks on the walls and floors or stains in the carpeting.
Outdated homes also tend to stay on the market for longer periods of time. While your faucet and appliances might work fine, no one wants to spend money on the purchase of a new home just to then have to spend more money to bring it up to date. Sellers will find it worth their while in the end to give their home a face lift and make some updates prior to putting it on the market.
If you find yourself trying to sell a home that been sitting on the market for quite some time, take the time to consider what the cause might be and work with an agent to get a sale in the works. If you are a buyer looking at homes that have been sitting, ask your agent why it hasn't sold. Find out if there are problems with the property or if there is just a stubborn seller that might now be willing to reconsider his or her asking price.