Moving is probably one of the most dreaded life events that you are faced with. Whether your moving down the street or across the country, there are always things you need to be aware of and plan for, and the more prepared you are, the smoother the move will be.
Start with getting organized
Give yourself enough time prior to your moving date to go through your belongings and donate or throw things away that you no longer use or need. The last thing you want to do is pack, carry and unpack stuff you don't use.
As your go through each room to pack, be sure to label your boxes at the same time. While this might seem like a tedious job, labeling them with the contents or color coding them so you know what rooms they need to be moved to in the new house saves time and alleviates aggravation when looking for a specific item later.
Always pack a box of essentials and keep them with you. This should include items such as toothbrushes, toothpaste, change of clothes, medications, and maybe even small toys or books to keep your kids busy if need be.
Research, Research, Research
Do not go with the first moving company you come across. If your moving out of state, be sure to hire a company that has experience with out of state moves.
Ask for recommendations from friends, or even your real estate agent, and read online reviews. Be sure they have experience in the type of move you require.
Make sure they have the correct equipment and adequate personnel to handle your move.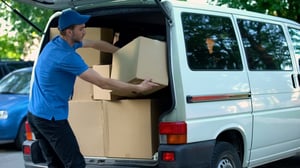 Always request a quote in person. If they try to quote you over the phone, ask for a price guarantee so that price doesn't all of a sudden go up once the movers show up. Do they charge extra for larger items, such as a piano or pool table? Ask these questions ahead of time.
Be very clear when you need and expect your move to take place. Ask for a time frame that you can expect the movers to show up, and ask if they have backup if the employees decide not to show up for work that day. Ask if they offer a discount if they show up past the expected time frame.
Are they insured? What is their replacement policy for broken, damaged or missing items?
If you plan on moving yourself, you might be considering renting a moving truck or van.
If this is your plan, be sure you understand the company's policies, rates and hours.
Most truck rental companies have a base price per daily rental, then charge additionally for mileage and fuel. Be sure you are clear on their pricing before signing an agreement.
Also, plan to pick up the truck according to their hours, not necessarily when you need it. For instance, you might need to start your move at seven in the morning, but maybe the rental company doesn't open until eight. If that's the case, you will need to pick up the truck the night before, understanding that there will likely be an additional fee. That being said, there is probably an additional fee for dropping the truck off after hours. This could cause you to pay for a total of three days instead of just the one day you're actually using the truck.
You also want to completely understand their insurance policy and what is covered. Ask questions if there is anything you do not completely understand or if the lingo doesn't make any sense to you.
While there any certainly other concerns that could arise when planning your move, preparing and researching ahead of time can prevent (or lessen) headaches and prevent you from having to dish out more money than expected or budgeted for.
---