As most home buyers have come to learn, many aspects of the home buying process are out of our control. Fortunately, you do have control over the companies you choose to work with, one of the most important being the title company. But how do you know how to choose the right one? The below provides a starting point and highlights a few questions that can be asked to help determine the right company for you.
The best place to start is with people you personally know that have recently gone through the home buying process. Ask them what company they used and if their experience was a favorable one. Would they personally recommend the company to a friend or family member?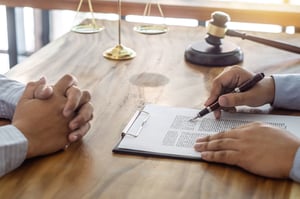 Did they feel comfortable asking questions, even if it meant repeating the question over again because they did not fully understand? Were deadlines met, or were there delays in the process that could have been avoided? Be sure to ask more than just one person for feedback to get different points of view and multiple options.
Do not be afraid to ask your real estate agent for a referral. Well-respected and experienced agents will have a network of businesses they will refer to their clients. However, you might also want to ask if the title company the agent refers to you has any type of business partnership with the agency. You want a title company referred to you based on work ethic and experience, not because there is an incentive to do so.
Be mindful of the fees involved. When speaking to title companies, be sure to specifically ask what fees you will be responsible for on top of the standard premium they initially quote to you. Ask about wire and cashier's check fees, courier fees, and also title insurance and escrow fees. You might find one company has a substantially lower quote than others do. While this might look favorable at first, be very careful and do a bit of research. Make sure they have enough experience in your area to know the local laws and have been around long enough to establish a good reputation.
Ask them what their standard procedure is on title searches. Is it standard practice to disclose the findings to the home buyer? Many home buyers assume that if they do not hear from the title company then everything is fine, however there have been times when things have been found during a title search that have not been disclosed to the buyer. For example, an easement may be included in the property or there might be something found that the title company documents as an exception to push the process along without discussing it with you. You certainly want to be clear on your expectations with the company before signing with them, as you do not want any surprises at the time of closing.
Lastly, check out their online ratings and reviews. It is nearly impossible to find a company without at least a couple of unfavorable reviews, but pay attention to the overall ratings, including the reviews that people take the time to write.
Be sure to ask the questions and do your research. While it is easy to choose the first title company you come across in order to get the ball rolling, make sure your choosing a title company that is well respected and provides full disclosure throughout the process to ensure a successful closing.