Remodeling your home can be fun and exciting, but it can also be very costly. Whether you have savings built up for your remodel project or you recently got approved for a line of credit, the money you have earmarked for the project can dissipate very quickly if you're not careful.
Here we will focus on how to plan your remodel in order to make your money last a bit longer.
Before you start on your remodeling project, do your homework and decide exactly what you want out of your project. Envision the end result. Once you do that, start pricing out the supplies and labor. Decide what you want and what you can afford before you actually start the remodel. This will help cut down on last minute add-ons that are not necessary. (NOTE: Always add an additional 20% to what you believe the cost will be to account for overages.)
Once you actually make your budget, stuck to it! The little things that come up that are out of your control will make a dent in your project money, don't make it worse with quick, frivolous purchases or last-minute decisions.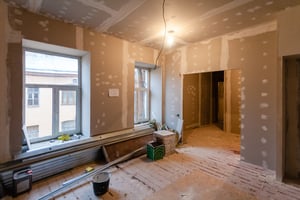 If and when possible, try to pay cash for your purchases and projects. This will save you interest on credit cards or loans and will often help to keep you on track with you budget.
Are you handy at all? Are there any aspects of the project you feel confident that you can do yourself? If so, forego a contractor and gets started. If its not something you can manage, then talk to you contractor about doing the prep work and clean up yourself to save money.
Considering adding an addition to your home? Or perhaps updating your doors or windows? Go to your local home supply store or talk to your contractor and determine what the "stock" sizes are for your materials. Buying off the shelf products, which do not need to be specially made or ordered, will cut down on your expenses.
When purchasing your supplies, frequent building-supply auctions for quality merchandise at low prices. Most of the items you find are either slightly damaged (possibly just scratched) or overstock items. Allowing the time to check out the auctions can save you thousands, depending on your project.
Does your remodel plan include your bathroom and/or kitchen? If so, plan to leave your toilet, sink, shower and tub exactly where they are and work your remodel around them. That's not to say you cannot replace these items themselves, but leaving the floor plan as is will keep a large chunk of change in your pocket.
Reassess your existing appliances, tubs, sinks. In some cases, people start to plan a whole remodel, replacing all of these items, when in actually they could have been happy with some simple upgrades and sprucing up. If your tub and sink are in decent shape but have scratches and dings, consider filling in the problem spots with a little fiberglass. You can also upgrade the fixtures for a whole new look while keeping the actual tub and sink in place.
If you do decide to replace big ticket items, such as the tub, shower, sink or appliances, buy them when you can get the best deals. Appliances and bath items can be found with lowest prices around holidays such as Black Friday. Planning ahead for these purchases can save hundreds.
When replacing fixtures, furniture and appliances, try to sell your used items instead of throwing them away. You might have luck on sites such as Craigslist, Facebook or OfferUp. While you certainly won't make a fortune, you might be able to put a bit of money back in your pocket.
Whether your remodel project is large or small, planning your remodel and setting your budget in advance is key. Do your homework, decide exactly what you want and what you can afford and follow your plan through. Your end result will not only be a success, but won't cause undo financial stress while progress is being made.