When you make the decision to buy a new house, you know you have a lot of work ahead of you. There is paperwork to be done to get preapproved, you need to find a real estate agent, you need to decide what you're looking for and where you want to live. All of this stuff that needs to be done is time consuming, even when you're just moving locally. But what about when you're moving long distance? These tasks can start to feel overwhelming, and maybe even completely impossible. While we understand it will not necessarily be easy, it is doable, and in fact is done quite often. In order to be successful in your long-distance (aka remote) purchase, we've provided some tips to follow to make you endeavor much easier.
Whether your moving for work or for personal reasons, you first need to choose the area you want to live in. If you're moving for work, then the general area is likely already chosen for you due to job location, however you still need to determine the town/city and neighborhood that you feel comfortable settling down in. You want to research things such as transportation, crime rates and the local school system. Even if you don't have children, the school system should play a factor in your decision-making process as it will have an overall effect on resale value if you find yourself in a position where you have to move again.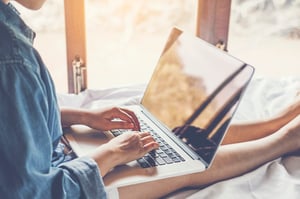 If you have co-workers or family that already live in the area you're moving to, reach out to them for advice. Scour the internet for information. Check the local chamber of commerce. Do your research and narrow down your choices to a couple that you really think would work for you, then move forward.
After you've decided where you want your house search to take place, find real estate agents in that area, preferable ones that have worked with long-distance sales in the past, and start interviewing. Make sure you contract with one that is going to be available to you via phone, email, facetime, skype, etc. during the times that you need. If your move is across county, don't forget to take the time difference into account when asking them for their availability and flexibility. Since this is a long-distance transaction, and assuming you don't have the extra time or expendable money to travel back and forth constantly, the agent will need to check out available houses as they come on the market and attend open houses for you. You want to be sure they understand your wants and needs and act quickly and competently so you don't miss out on perfect housing opportunities.
The internet will be able to provide invaluable information to start, but you still need to get a feel for the area in person. Plan to visit at least once or twice before you move. If you'll be staying in a hotel during your visit, keep in mind that rates are generally lower during the week than on weekends. Tour the area and see firsthand what the neighborhoods, parks, shopping areas and schools are like and how far from your desired location you will need to travel.
Before you are actually faced with moving, research your options for moving companies. Check into long-distance movers. Determine what the cost would be, make sure they are licensed and insured and be sure to check all references. Make sure they have the experience and carry a good reputation—after all, you will be trusting them to deliver all of your belongings safely.
While this endeavor is inevitably going to be stressful and time consuming, doing your homework, keeping an open mind, and finding a first-rate real estate agent you can trust will result in a smoother transaction and transition into your new home.