If you took a survey and asked people what they consider to be a typical down payment when purchasing a house, most people would probably say that twenty percent of the purchase price is the magic number. Lenders also look for this amount because they feel confident that the buyers are committed to the house and that will make their monthly payments after paying twenty percent of the cost.
After the financial crisis in 2008, lenders that would have previously given a loan with little or no money down at closing started requiring people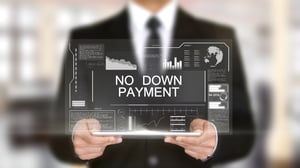 to put down twenty percent in order to be considered for a loan. Homebuyers who have the funds and are able put twenty percent down are considered good loan candidates because they are less likely to walk away from their mortgage and lose the thousands of dollars they dished out.
Though twenty percent has been known as the typical down payment, do not be discouraged if that amount is out of your reach. With the prices of homes increasing, twenty percent of a sale price is often out of the question for many buyers. Lenders are offering more options making it easier to qualify for a mortgage putting less money down up front, thus making it possible for home buyers to acquire the home they desire.
Whether are you are going through a private lender or FHA, you may qualify to put as little as 3 to 5 percent down depending on the program and terms of the loan. When making a smaller down payment, you will be required to pay mortgage insurance. Mortgage insurance is essentially a safety precaution for lenders. You pay an insurance premium on your mortgage, and the lender ends up being the beneficiary is you should fail to make your payments. Once you have paid twenty percent of your home's value, you can ask your lender to remove the mortgage insurance fees.