You spent months, or maybe even years, preparing to buy a house. You saved, you interviewed and signed with a Real Estate Agent, you chose a lender and went about getting your pre-approval. Now you've found the perfect home and you're ready to put an offer in… and you find you're not the only one. It's a seller's market and you find yourself competing with other buyers. What are your options? While you certainly cannot make the seller decide to choose you to sell to, you can take the extra step and write a winning offer letter.
Why is an offer letter important? The offer letter is your opportunity to make a connection to the seller on a personal level. Often times the seller is very attached to their home. Perhaps they grew up there, or they raised their family there and the home is filled with "firsts" for them. They children's first milestones were achieved in that home. First steps, first words, graduations… they all add up to memories that are sometimes difficult to physically walk away from. Your offer letter can provide a way to make a connection to the human aspect of the home so the seller will see that you understand it's more than just a house with four walls.
Your offer letter needs to make this connection so the seller can picture you and your family living there, and here is how you achieve that.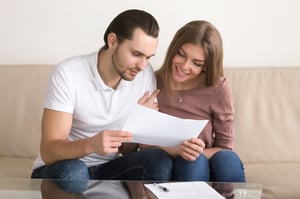 How to write the letter:
Always address the seller by their name. If you don't know the name of the seller, ask your real estate agent to help.
Mention common ground. Throughout the process of viewing the home, you might have determined you both have a love of sports, movies, or maybe even cooking. Try to briefly tie in a common interest.
Explain (again, briefly) what you love so much about the house. Flatter the seller. Comment on the well-kept landscaping or any unique features the home might have.
Send a picture with your letter. Perhaps a picture of your family, your pets (sometimes can tie this in with the common ground). A picture will help personalize your letter a bit more and help to see the actual family behind the buyer, not just the transaction that will take place.
Mention the down payment, especially if you are able to offer more. This is particularly helpful if you find yourself in a bidding war with other potential buyers. Keep in mind that your letter might not be the only one they receive, so if you are willing and able to offer more of a cash down payment that what is required, this aspect of the letter might just make it stand out above the rest.
End the letter with a bit a thanks. Reiterate why you are so interested in the home, but also thank the seller for their time in actually reading your letter and taking the offer into consideration.
Let's quickly go over what you should avoid in the letter:
Do not point out anything that you plan to change in the home.
Even if you are willing to spend much more on the house than what they are asking, do not refer to this in the letter. Let that show if you continue on in a bidding war and let your real estate agent advise you on that.
Do not put the seller off by telling them you want or need to close by a certain date. Chances are, the seller will not respond favorably if they are feeling pressure instead of flattery.
When writing your letter, be sure to keep in mind that this is your one chance to make a personal appeal to the seller. You want them to feel you are genuine when they read the letter, without seeming fake. Keep it short and sweet, following the above tips, and you just might find yourself one step closer to closing the deal.