When applying for a mortgage, your mortgage lender will require you to submit many forms and fill out various (never-ending) paperwork. Once of the financial documents you will be required to submit is your bank statement. As you will find below, your bank statement is just as important as your pay stubs and your tax returns when trying to get approved for a mortgage.
What does your mortgage lender look for on your bank statements, and what do the statements tell the lender about you?
Essentially, your bank statements will paint a clear picture for the lender about whether or not you can afford to pay your mortgage. You are typically required to submit statements for the most recent two months. Your payments out of your account, as well as your deposits into your account, are scrutinized. Below we highlight the main things that will be looked at, and what are considered red flags for any mortgage lender.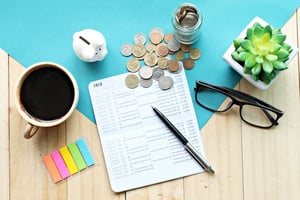 Large or unusual deposits - Any large deposit, other than payroll, is likely to be questioned. Your lender will need to verify that the funds are not borrowed and expected to be paid back. If you should receive a sum of money, whether from a family member or any other source, you will need to explain the source and reason for the funds. If the funds are a "gift" from a family member for a down-payment, more paperwork will be necessary to verify this gift for the lender to accept this on your statement. These deposits are questioned because the lender wants to be sure you will not owe this money back to the person who gave it to you, which would essentially mean you have a private loan with payments due, and also because the lender needs to be sure the money is not coming from an unlawful source. If you are expecting a gift of funds, plan on making that deposit at least two months prior to applying for a mortgage. Money that is in your account longer than a couple of months is considered "seasoned" and will not appear as a red flag on your statement.
NSF (Non-Sufficient Funds) – If your bank statement is riddled with NSFs, this will indicate to your prospective lender that you are not financially stable or capable of handling your finances. If you do have NSFs on your statement, you are best off waiting a couple of months to apply for your mortgage, and of course be careful to not bounce any additional checks. If you cannot wait to apply for your mortgage, be prepared to explain the NSFs to your lender. Perhaps there was an oversight with updating an automatic payment, or maybe your scheduled two payments to be made to the same creditor in error, or maybe there was a problem with your employer or payroll company. All of these issues can be explained, and if explained sufficiently, they might be overlooked.
Unexplained or Unreported Monthly Payments – Along with your bank statement, your lender will also pull your credit report. Any payment coming out of your bank account should also be documented on your credit report as money owed. If it is not documented on the credit report, it is consider a non-disclosed credit account, and your lender will require an explanation and likely request additional documentation (which means more paperwork).
While often a bit intimidating, applying for a mortgage can actually go much smoother if you are prepared and aware of what to expect. There is no two ways about it, your lender will scrutinize your finances inside and out to make sure the money in your account is yours, and also to be sure you are financially capable of making your mortgage payments. Take the time to go over your own financial statements and credit reports before applying for a mortgage so you have time to clean up any discrepancies and make your statements as transparent as possible.