There is a common misconception that those who receive Social Security Disability Insurance (SSDI) do not qualify for home ownership. Fortunately for them, this notion is just not true. While there might be more steps involved and more paperwork to complete, those on SSDI often have the same chances at becoming a homeowner as anyone else. Below we will highlight what people on SSDI need to be aware of and what is available to them.
Like with all mortgage applications, your credit scores and your income are going to be reviewed.
All lenders will look at credit scores, and it is, in fact, a large factor in determining if you qualify for a loan. Be sure to know your credit score before applying for a loan, but do not dismiss the idea of becoming a homeowner if your score is less than perfect. There are programs available to help those with disabilities with their credit scores.
Income is also a factor, and therefore many people on SSDI believe they will not qualify for a loan. It's important to learn about the options available to assist those with limited income due to disabilities.
Assistance to help make your dream of owning a home a reality: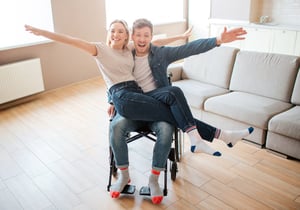 There are many programs available to those who receive SSDI that will assist in the purchase of a home.
One such program is The Fannie Mae Community HomeChoice Program. This program assists people with disabilities by offering low down payments, qualification aid and leniency in reviewing credit scores.
Section 8 assistance is also available to those looking to purchase a home. While many people believe that section 8 offers assistance for renting only, Section 8 also assists in monthly mortgage payments. If you qualify for Section 8, reach out to your local office for assistance and local guidelines.
VA Home Loans for Disabled Veterans is a program that not only offers mortgage benefits to qualified veterans, but veterans with disabilities also receive the below:
Exemptions on funding fees – Veterans may be exempt from this fee if their disability happened while serving. NOTE: spouses of veterans who have died from service related injuries may also be exempt.
Home modification grants – The Specially Adapted Housing (SAH) Grant and the Special Housing Adaptation (SHA) Grant are available to assist in making a home accessible for those with disabilities.
It is also important to know that there are no minimum service requirements in order to qualify for many of these programs through the VA Home Loans for Disabled Veterans if you have a service related injury.
Homes For Our Troops (HFOT) is another program which not only builds homes for severely injured post-9/11 veterans, but they offer support after the veteran moves into the home, such as financial planning and budgeting.
Disabilities come in all forms. Chronic illness, breathing, hearing or vision impairments and mobility just to name a few. Regardless of the type of disability, there are resources and programs available to you to assist in making the dream of homeownership a reality. Reach out to lenders, your government assistance office or the VA for more information on how to get started and what you might qualify for.