Renting instead of Buying. Plain and simple, renting an apartment or a house will not build equity. Your payments are not providing any financial benefit to you. Once you know you are ready to take the step into home-ownership and you are financially prepared to do so, do not procrastinate. Even if you know you might be moving or know you will eventually want a larger or newer home, buying a house now just might prove to be a sound financial investment. If you can find a home at a decent price or a home that needs a bit a work that you are not afraid to tackle, the equity you build up has the potential to provide a much-needed down payment on a home you can plan your future in.
Watching Interest Rates. While everyone hopes to close on a home with a low interest rate, the flip side of waiting for a lower rate can certainly mean a higher price overall. Finding a home you love, that you can picture yourself in for years to come, can be an exhausting task. Now imagine this scenario: You have researched the neighborhoods in the area you want to live in, checked out the schools and transportation options, found exactly where you want to live, only to find you waited too long and the housing market has changed, leading to higher asking prices. It is better to buy now, even if the rates are a bit high, because you always have the option to refinance later.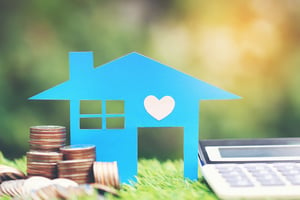 Waiting to Get Preapproved. The preapproval is important for a couple of reasons. First, the preapproval will tell you exactly how much you will qualify for, leading you in the right direction when you start looking at homes. You do not want to fall in love with a home, only to find out later that you will not be approved for the asking price. Keep in mind that there are always expenses on top of the actual cost of the home that you will need to prepare for, such as home insurance and closing costs. Second, having a preapproval ready when you find a house you are interested in automatically puts you ahead of buyers without a preapproval when submitting an offer. It not only tells the seller you are prepared to move forward, but it also saves time and anxiety. Remember, you are most likely not the only buyer putting an offer down on that house! Knowing what you can afford and what you can offer is critical.
Neglecting to Educate Yourself on Various Types of Loans and Down payments. When speaking with lenders, be sure to determine what types of loans you qualify for and what the options are for down payments. For example, depending on your situation, you might qualify for a VA loan or a FHA (Federal Housing Administration) loan, or perhaps a Conventional/Fixed Rate Mortgage is better for you. The down payment regulations and penalties differ with each, so it is important to understand what your options are before determining what you think your out of pocket expenses will be.

Choosing the First Real Estate Agent You Find. One of the most important things you can do when you decide to purchase a home is find a Real Estate agent you can trust and work with. A good agent will walk you through the entire process, be on the lookout for exactly the type of house you are looking for and in the area you want to live in, negotiate on your behalf, assist in scheduling your inspections, submit counter offers if necessary, and prepare you for your closing.
Foregoing the Inspection. As a buyer, it is important to make sure you insist on a house inspection before purchasing. Not only do most lenders require the inspection, its important in order to determine if there are any issues with the home you need to worry about. These could include structural issues, electrical problems, presence of mold, a leaking roof, or any number of other problems that could cost you dearly once you move in. If there are issues found with the home, your agent will want to renegotiate on your behalf. Depending on extent of the problem and the cost of fixing it, the seller might decide to fix the problem before selling, lower the asking price, or perhaps offer to pay your closing costs as a concession.
Bypassing Homes Because They Do not Have Everything on Your Wish List. When looking for a new home, try to keep an open mind. Even though you might have a picture of exactly what you want your house to look and feel like, the chances you are going to find that house, especially without having it built to your exact specifications, will be nearly impossible. While you might not want to make concessions on the big things, such as number of bedrooms and bathrooms, you might want to consider making concessions on some of the smaller things. Perhaps the kitchen is not as up to date as you wanted, or the living room has outdated wallpaper. Overlooking these things and being willing to make updates after you are living in the house might save a lot of time and money, versus holding out for the perfect home that might not come.
The house buying process can be a daunting, time consuming and stressful endeavor, no matter how you look at it. However, if you avoid these mistakes and work with the right agent and lender, you can certainly make the process easier on yourself and end up a new homeowner before you know it!