If you are one of the many consumers that are dreading opening their credit card bills that are pouring in, know you're not alone. At this time of year, when we are looking forward to what the new year will bring (never more so than this year!) consumers find themselves struggling with how to keep up with their holiday bills. Even though 2020 was a tough year financially for many, the NRF (National Retail Federation) reports that spending was down just slightly for the average American this past holiday season. This leads us to our question: Can a cash-out refinance help you breathe a little easier?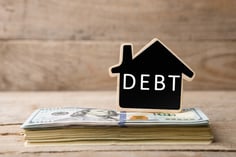 In most cases, the answer is yes! Assuming you've been in your home long enough to build equity, you can put that equity to good use with a cash-out refinance.
With mortgage rates holding steady at an all time low, this might just be the perfect time for you to refinance your home AND get cash back to pay off your credit card debt and personal loans in order to reduce your monthly payments... putting more money back in your own pocket and taking away some of the financial strain.
Refinancing at this time may have other vantage points to consider. As mentioned above, mortgage rates are currently at some of the lowest on record. Even if you're not drowning in holiday debt, chances are your current mortgage rate is higher than what is now being offered by financial institutions and mortgage lenders. Refinancing at a lower rate could not only save you thousands over time but could decrease the length of your loan depending on your mortgage terms.
Now is the time to shop around and speak to mortgage lenders to see what options and rates are available to you. Whether your refinance will help you to relieve your debt or simply allow you to save some extra money each month, learning about the different loan programs that can help you is as quick and easy as making a phone call or completing a mortgage application online.