It is no secret amongst real estate agents that competition continues to grow. Agents not only have to possess strong communication and networking skills, they need to look ahead and be on top of the newest technology and tools available to them. Buyers and sells expect more and more out of their agents and the results that they produce.
Enter the Drone, otherwise known as Unmanned Aircraft System.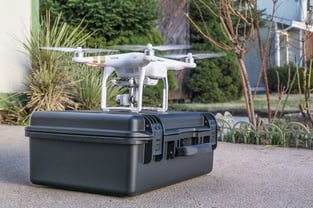 Using a drone to create high quality, high definition video listings has the ability to attract the tech-savvy first home buyer who is trying to save time, or the family who is starting all over again by moving to a new city.
To bring the very best to clients, agents are looking more closely at using drone technology to market their listings. Drone technology allows an agent to not only showcase the home, but this technology can also provide insight to the layout of the property and the community through online video tours. The buyer has the potential to view neighborhoods, walking paths and even local parks. Drones can highlight details of the outside of a home such as the condition of a roof, or show off property features such pools, gardens or a waterfront view.
For the inside of the home, drones are utilized to create a more realistic virtual tour than standard photography. It is important for a listing to stand out from the rest, and using a camera drone that has the ability to fly through the home traveling from one room to the next to highlight the unique features and room size would certainly do that. Time is valuable, and scheduling appointments or finding open houses to attend is a time consuming and daunting task. The viewer can literally sit at their computer and still feel as if they are walking through the front door for their tour. Since virtual tours can be created with voice-over technology, the narrator can point out special features or points of interest and history that may otherwise be missed unless the viewer contacted an agent to see the property in person.
Though using drone technology in real estate was still a futuristic concept just a couple of years ago, this technology is now being considered the up and coming way for agents to draw clients with realistic video presentations to conquer the competition.