Whether you are moving into a new home or want a fresh start with you landscape, with a bit of preparation and forethought, you can create a beautiful flower bed that will enhance your landscape.
But before you dive in and start ordering plants online and grabbing pots at the nursery or home improvement store, take the time to determine what is going to work best (and look best) in your yard. Following the below tips will help you establish a plan and get your gardens in top shape.
Always start with a clean flower bed. Be sure to remove all remnants of winter and neglect by removing an twigs, branches or weeds that might have accumulated.
Once you flower bed is cleared out, examine the area you'll be planting in. First, be sure the soil is not too compressed. If the soil is too packed down, you will not be providing your plants with an opportune space for growth. Loosen the soil with a rake or aerator to begin to prep the area. Second, determine the conditions surrounding the area. Are you planting in an area that gets mostly sunlight during the day or just partial sun?
Now you need to determine if you will be starting your flower bed by planting seeds or by purchasing nursery-grown plants.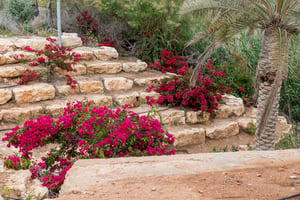 While it is cheaper to start your own flowers by planting seeds, you need to be diligent about taking care of them and having the space to do so. Most people do not start off with a greenhouse to take on this task, so you need to be able to store you trays of seeds in an area that gets enough sunlight and where you will be able to conveniently water them to keep them healthy. As soon as the plants have a healthy stem grown, you need to transplant them to your prepared flower bed.
If this is not a task your up to or you just do not have the room, go with the nursery plants. Keep in mind that your flower bed must be ready for the plants at the time you purchase them as they should be transplanted soon after you get them home. In the nursery they are well cared for and watered at specific times of the day. Often times when we buy plants, we put them outside and they might sit them for days on end before we find the time to plant them. This will likely cause them to dry out before we can even enjoy them.
Regardless of the size of the garden you planning, determine colors and texture. Plan on varying colors, sizes and types of plants. Consider planting shorter plants or ground cover in the front, while having plants with staggered heights in the back. If you have a large area to work with, you might also consider ornamental grasses or shrubbery to enhance the background of your landscape.
Also, you need to determine if you want annuals or perennials, and plan accordingly. Follow the planting recommendations for each variety you purchase. Whether you started your own seeds or your transplanting from the nursery, always be sure to give the recommended amount of space between each plant to allow them adequate space to grow.
Once you've successfully planted your flowers, complete the look by adding mulch. Mulch will help your flowers maintain moisture and will also help to prevent your flower bed by becoming overrun with weeds. When mulching, added a layer no thicker than a couple of inches and be careful not to place the mulch against the plants themselves as it will likely cause the stems to rot.
While you might be eager to jump right in and start planting the first flowers that catch you eye, taking the time to plan and prep with the above tips will make a big difference in the longevity and appearance of your new flower garden. In no time at all you will be able to sit back and appreciate the beauty you created!