Once you make the decision to put your house on the market, the first thing you are likely to wonder and worry about is how much you will be able to sell it for. Before committing to any one agent, it's extremely important to reach out to a few experienced real estate agents to compare offers and the contents of the offer.
Real estate agents do a CMA (comparative market analysis) in order to determine a home's value. When presented to a seller, the CMA will provide the details which were considered to determine the proposed sale price, the reasons and factors considered in determining the sale price, and the detailed plan the agent expects to use to actually sell the property.
So, how is a CMA prepared? Multiple factors (and home features) are considered.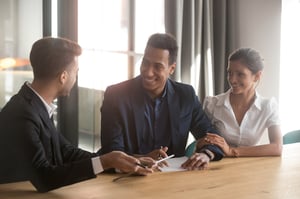 We'll first cover three comparisons that skilled and experienced agents use in the CMA.
Comparisons of similar homes that have recently sold in the area. When reviewing the data for comparisons, time frame is important here. The real estate market is constantly changing; therefore, a window of 6 months is generally used when looking at recently sold homes.
Comparisons of similar homes that are currently under contract, but not yet sold. This is important to consider to get a feel for what similar homes are currently going for, however you need to keep in mind that the actual price at closing could certainly change.
Comparisons of similar homes in the area that are currently listed for sale. While this data is looked at by agents, this really only tells you and the agent what other agents think the listed homes are worth, but they could actually end up being priced too high or too low.
Please note that in all of the comparisons done, it's important that the agent compares your home with homes that are, in fact, similar. For instance, you can't compare a cape to a colonial when determining pricing based upon similarities.
Along with the comparisons listed above that agents research, agents will also factor in features and amenities such as:
Neighborhood and location of home
Number of bedrooms
Number of bathrooms
Age of home
Condition of roof and siding.
Condition of bathroom and kitchen (have they been renovated? Are they outdated?)
Is there central air?
Is there a pool? And if so, above ground or inground?
Is there a garage? How many stalls?
Recent renovations or upgrades to plumbing? Heating? Electrical?
You will also find that the real estate agent might ask for you input or knowledge of homes recently sold around you. For instance, if you neighbor's home, which is similar to yours, just sold for what your agent considers to be a low price, you will want to let the agent know if there were extenuating circumstances. If you know that they sold quick for personal reasons and took the first offer received, that will play a factor in pricing your home accurately. Their low sale price is not indicative of the current market, it was simply an exception due to personal circumstances. This will be taken into consideration when the agent prepares your CMA. However, if they didn't know there were special circumstances surrounding that sale, they would be using that low price when comparing similar houses that sold in the area.
While It might seem like a cut and dry process, there is actually a lot of work and research in preparing a CMA and determining the value of a home. Be sure to review the CMA that is presented to you and compares CMAs from multiple agents before signing a contract. Experienced real estate agents will expect to go over their findings and answer questions confidently. If one agent presents a suggested list price higher than the others, be sure to ask how the figure was determined before assuming that is the best offer.