The spring real estate market is generally a busy time for buyers, sellers, real estate agents and lenders. So as not to get lost in the shuffle and miss out on your dream home, prepare for the frenzy and know what to expect… and when to expect it. Preparing yourself ahead of time might make a big difference in whether or not you are able to be the first to make an offer on your dream home, or if you find that someone else has beat you to it.
The first thing you want to do is hire a real estate agent in the area you are looking to buy a home. Finding the perfect home can be a challenging endeavor at any time of year, but when you are planning on buying a new home in the spring time, you may find the task even more challenging and exhausting. An experienced real estate agent will have access to the new listings that come on the market much faster than the average buyer is able to find them, and they also have knowledge of the local market, neighborhoods and schools.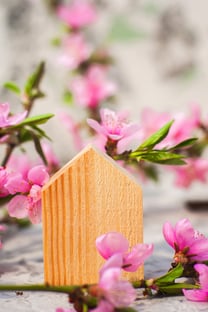 Once you've found an agent that you feel comfortable with,, its time to find an equally reputable lender that you trust to handle your transaction. Take the time to speak with different lenders and have them provide you with quotes. You want to go with the lender that gives you the best deal overall, but you also want to make sure you have a good rapport with the lender as you will be working closely with that person from the time of pre-approval through closing. And there is a lot that happens in that time frame…
Ask your lender for a Pre-Approval Letter that you can have on hand, and also ask them for a list of the documents you will need once your find a home and make an offer. These documents will include bank statements, W2s and pay stubs. If you wait until you find a home you love to gather the required documents, you might find your window of time to make an offer has closed because someone else had everything prepared ahead of time.
Now that you have your agent as well as your lender and pre-approval, make a detailed list of the things you must have in your new home. Outline the aspects that you cannot do without, and also the things you would like to have, but are completely necessary. For instance, depending on your family size, you might know you absolutely need to have 4 bedrooms, or you might require a house that is just one floor. Compile your list of must haves and list of wants and present it to your agent. This way, your agent knows exactly what to look for and will not be wasting your time or theirs looking at houses that are within you budget, but simply will not work for you.
There's no doubt that home buying at any time of the year is stressful, but home buying in the spring tends to bring the stress to a whole knew level with added competition. Increase your chances by having the right professionals on your side and having a strategy to have you in your home by summer.