Though it seems as if we just put our summer things away and began prepping for the fall, now is the time to start looking ahead to the winter months and what they bring. With colder air settling in and even colder nights heading our way, we want to make sure our houses, and families, are well prepared for the first frost and falling snowflakes.
Here we will start on the outside and work our way in.
Be sure water does not have a chance to pool and freeze around the sides of your house. You want to make sure the ground around your foundation allows water to seep into it and draw the water away from your home. To do this, you might consider digging a trench and installing underground drain pipes. You might also consider using downspout extenders to push the water away from the foundation. Another idea to consider to having the pitch to your landscaping designed to automatically have rain water flow away from the foundation.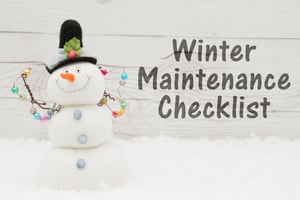 Check your gutters. If you didn't already do this in preparing for the fall, make sure you do it now that the leaves have fallen. Clogged gutters can lead to even larger problems. If the water has no where to go, you take the chance of it freezing in the gutters. The added weight could lead to your gutters detaching. It could also lead to rot on the outside of your home and water in your basement.
Prepare for snow removal. Hopefully you have not waited until the last minute, but if you haven't tried to start your snow blower yet, do so now. You don't want to wait until the first storm to realize you're stuck with no way to get out of your driveway. If you hire someone to plow your driveway instead, make sure you contact them and secure an agreement before the first storm. Also, have your shovels and ice melt handy near your door or in your hallway or mud room for quick, easy access.
Fix cracked walkways. To make your shoveling easier and safer, make sure you fill in all cracks in your walkway before the first frost.
Check/install/repair all windows and doors. First, be sure all window screens and screen doors are replaced with storm windows and storm doors. While doing this, check and replace any rotted areas and damaged weather stripping. If you find drafts around your windows and doors, but sure to caulk the area so as to block the cold air from sneaking in, and warm air from sneaking out. If you find a draft under your door, consider installing a door sweep.
Have your firewood delivered. You will often find good recommendations from friends or social media for local, seasoned firewood.
Have your chimney cleaned. You should have your chimney cleaned yearly to be sure there is no build of creosote.
Check for and seal air leaks in your attic. Even the smallest gap can lead to much higher heating bills in the winter and can also allow small animals into you home. You can easily fill the gaps with caulk or expanding foam.
Have your furnace inspected. Putting this off can lead to very cold winter nights if the furnace stops working. Contract with a company that will do your inspections and maintenance on a yearly basis, and you will be able to call on them in time of need.
It might be time to invest in a generator. Power outages are never convenient; however, they are even worse in the middle of winter with no heat source. If you wait until you have a power outage, it is safe to say you will not find one available at that time at your local home improvement or hardware store.
Insulate your hot water pipes. You can find pre-slit foam pipe insulation at your hardware store. Be sure to measure your pipes in order to purchase the correct size, then you can easily fit the insulation right around your pipes. Without insulation, the cold air will cool the water running through the pipes, causing your hot water heater to work harder and more often, leading to higher heating bills.
Install and set a programmable thermostat. Having the option to program the times and temperatures you want your heating and cooling system to run at will save on your heating and cooling bills. This takes the worry and cost out of forgetting to lower the temperature before leaving in the morning or before going to bed at night.
The dead of winter is a horrible time to find yourself with home repairs or no heat. Taking the time focus on preparing for the colder months can prove to be a life (and heat) saver in the months to come.