Anyone that has had to place their house on the market or has gone through the process of selling their home knows it can often be a difficult and time consuming process, and that's with having an agent handling the sale. Even when things so smoothly, there are many issues to consider and many steps that have to be taken. However, many people, mostly those who are going through it for the first time, believe they can sell their home on their own, foregoing the use of an agent. The FSBO (For Sale By Owner) transaction often leads to delayed sales (if any) and more trouble than ever imagined. Below are some important issues to be considered before making the decision to sell your house on your own.
Marketing and Exposure: Without a doubt, hiring an agent leads to great exposure. Without an agent, your house will not be listed on the MLS (Multiple Listing System), unless you pay for a service to get your house listed. Even then, without an agent on the listing, many prospective buyers will bypass the listing completely. On top of the listing aspect, agents also provide yard signs and fliers, both professionally done.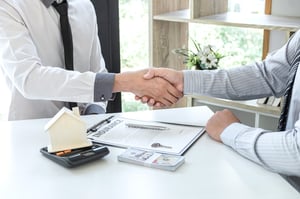 Time: As mentioned above, marketing and exposure are key in getting your house out there. Once people find your listing and it peaks their interest, they will want to see the home. You will need to set up dates to have an open house, taking up nights and weekends, but you will also have to take into account that some buyers won't be able to attend your open house and request private appointments instead. Are you able to take time out of work to accommodate these requests?
Pricing: While you know how much your payoff amount is on your house and how much you would like to receive when selling, do you have the expertise to accurately price your home? You need to be careful not to overprice or underprice your home. An agent is trained in and has experience in accurately pricing homes, taking into considering the age, condition, size, location, and recent sales in your area. Though you might not always agree with what an agent tells you as far as what you think your house is worth, their expertise is invaluable in keeping expectations real and getting the house sold.
Negotiations: Along with accurate and reasonable pricing, you need to consider if you are qualified to handle your own negotiations without allowing your emotions to take over. Agents are skilled in handling offers and counter-offers and knowing when to push back… and when not to.
Legal Requirements and Disclosures: Many states have their own required disclosures that need to be addressed when selling a house. Without knowing what needs to be disclosed, which could be anything from the presence of lead paint to having sex offenders living in the general area, you could find yourself having legal action taken against you after the deal is finalized.
Staging Your Home: You might love your house the way it is. Your decorations and furniture are what make it home to you. However, the need to stage the home and present it in the best light possible to possible buyers is key. The initial pictures posted online are what will draw a prospective buyer in or have them scrolling through to the next listing. Agents often work with professional stagers to handle this for you, leaving the emotional detachment out of the picture.
Buyer's Agent: One of the things that many people who are considering the FSBO option do not consider is the buyer's agent. Are you willing to work with a buyer's agent? Keep in mind that the agent would be expecting their share of commission, which is typically at least 3%. However, can you afford to not work with a buyer's agent and shut out that option and the potential buyers?
Any way you look at it, all sellers are hoping to make top dollar on the sale of their home, but it is extremely important to realize the downside and potential risks in trying to do it without an agent. Instead of saving money, sellers often find themselves losing money, as well as time, in the end.