It is no secret to anyone watching the housing market that within just the past year, the sales of new homes have increased to the highest level we have seen in over a decade. For anyone currently looking to become a homebuyer, this news puts more of a strain on the process, which can quickly lead to heartache and frustration.
In this current market, you need to be aggressive in your search and in your offers. There is no time for procrastination.
If you are using a real estate agent, be sure they are on top of all new listings and being proactive in the search. Once houses are listed, they are going under contract quickly so you want to be one of the first in the door if it is within your means and has the basics of what you are looking for. You want to be the first to be able to put in an offer and be prepared for the owners to counter-offer. Also, realize that in this market, even if you offer the asking price, it is likely another offer will come in higher than the asking price since there are limited affordable houses available. Enter disappointment and heartache.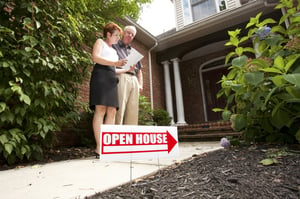 Remember to be realistic and keep an open mind with your findings. While we all have a picture of what the perfect house would be, keep in mind that unless you are building the house yourself, there will be imperfections and compromises. Make sure you are going into this with lists of what you absolutely know you want and what you do NOT want. Keep sight of what is most important. If you have children, perhaps you are willing to forego certain aspects of a house in order to move to a location with a good school district. Or maybe the amount of work you will need to do prior to moving in will not be worth the extended commute to work. If you do not immediately fall in love with the house as is, take a step back and visualize. With modifications, a fresh coat of paint and new décor, does it have the potential to make you fall in love? On the other hand, do not jump into buying the house out of frustration from the search.
So maybe you didn't fall in love. You might not even have fallen in "like". Do not make the mistake of thinking that after renovations and time you can make it what you were hoping without asking yourself if you it's worth it in the long run. Are the renovations going to put you way over budget? Do you actually have the time to put into the house? While you do not have to fix everything all at once, make sure you and your family are going to be happy in your investment in the long run.
Your new home is out there. It may have imperfections or it may be exactly what you wanted, but either way, it is out there. Stay the course. Do not give up. Keep motivated. Though it might take longer and be much more labor intensive than you ever imagined it possibly could be, the result will be worth your efforts and tears.