Whether you're in the market to buy a new home or you're on the verge of listing your home for sale, finding a good realtor, one that you can relate to and feel at ease with, should be the first thing on your list of things to do. A good realtor will help pave the way to an easier, and hopefully quicker, closing.
Let's take a look at things to focus on when choosing a realtor.
Full-Time Realtor: When choosing a realtor, make sure he/she works full time in the business. Those who work just part time as a realtor do not have the same experience in negotiating, nor will they have the same exposure to properties coming on the market.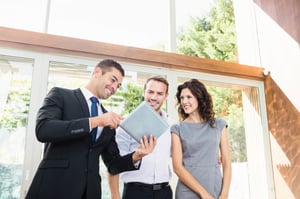 An agent that is completely invested in his work, and has the knowledge of one working in the field full time, will be better equipped to fight on your behalf when issues are found during inspection, or when the opposing realtor comes back at you with a counter-offer when negotiating pricing.
Or perhaps you're selling your home and have and interested buyer, but you cannot commit until you find a new house to move into. Chances are, a realtor that works only part-time in the industry is not going to be aware of new properties as soon as they hit the market. In the current market, timing is crucial. Full-time realtors are watching the realty sites and scouring for new properties at all times of the day, not just nights or weekends, giving you the advantage of learning about the property early and deciding if you want to make an appointment to see it—possibly even before an open house is even scheduled.
Imaginative: You want your realtor to be imaginative and creative. Whether they are showing your home or writing a proposal, you want them to be able to think outside the box and present your home or offer in the best light. You want them to be able to present or "stage" your home in ways that prospective buyers want to see it in person and learn more about the property. You want them to write a proposal or offer that stands out above the rest.
Tech-Savvy: It might seem ridiculous to emphasize the importance of your realtor being fluent in technology and the use of computers, but there are still some old school realtors out there that do not utilize the internet to their (or your) benefit. Be sure your realtor is not only proficient in the use of computers, smart phones, etc., but they are also familiar with the most up to date e-signing regulations and options available to you in your area.
Has a Network: On top of making sure your realtor has experience, you want to make sure that experience has gained them a useful network of professionals they can call on. If they've been in the business for some time, they know the lenders they can trust and who have good reputations. They will also have reputable repairmen, insurance agents and home inspectors that you can contact and rely on.
Team-Player: When interviewing agents, make sure they have either an assistant, a business partner, or a team that they work with. It is not realistic to think you'll be their only client, however you want to be sure that there is always someone watching out for your best interest and there to answer any questions that come up should they be unavailable to take your call.
Respected: The last thing, but one of the most important things to determine, is if the realtor you might be signing with is well respected. You want them to have the respect of other professionals as well as past clients. Ask them how long they've been in the business and how many clients they generally have at any one time. A realtor that is new to the industry may not have been around long enough to gain the respect of other professionals, however if they do not have a good reputation, even for the short time they've been in the business, you're sure to find out with some digging and networking of your own. Don't hesitate to ask for the contact information of past clients to get their take on him/her. Ask specific questions about how certain transactions were handled to get a feel for their style and effort.
Buying and selling a house is easily among the most stressful events you may go through in your lifetime. Having a realtor your comfortable with, have a good rapport with, and whom you trust to handle this huge life event is imperative. Ask questions, use google to your advantage when researching, and find an agent that your gut approves of to make the transaction run smoother. Although there are always things that pop up that need addressing, from credit issues to inspection problems, if you put the time in to find a good realtor, these issues can be addressed without adding more stress to your already busy life.