Real Estate agents need to be familiar with TRID and be mindful of the rules in order to assist both buyers and sellers. The below points are essential for agents to understand to keep closings on track and meet clients expectations.
The Closing Disclosure, or CD, is used for nearly all mortgage loan applications. In almost all cases, the Closing Disclosure will be prepared and delivered by the lender, not the closing agent.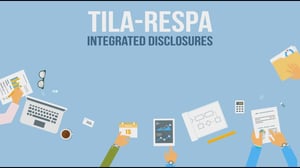 The Closing Agent must provide all pertinent information, including buyer paid charges, to the lender 10-14 days prior to the closing date so the lender can then prepare the CD in time to meet the delivery requirement. The CD must be delivered to the buyer 3 days prior to the closing.
Any changes at all to the CD after it is delivered to the buyer may trigger a new three-day waiting period, therefor it is imperative to keep a good line of communication open. These changes could include a change to the Annual Percentage Rate, change to loan product or if a prepayment penalty is added to the terms. As the agent, you may want to consider scheduling a pre-settlement walk through or inspection of the property to make sure any final changes that need to be addressed are done so well in advance. If the buyer is expecting specific maintenance things to be done and they are not, or if the condition of the property is not what is expected, waiting until the day of purchase to find this out may delay the closing.
Be mindful of TRID rules when negotiating a closing date for the buyer. The once standard 30 day closing period may not be realistic, depending on the lender the buyer is working with. In order to set clear expectations, be sure to communicate with the lender and the title insurance company to determine a realistic closing date for the buyer and seller.
Talk to your clients and stress the importance of communication. Any change that is made after the contract is signed must be communicated immediately to the lender so as not to cause a delay in closing. Having this conversation periodically with your buyers will assure nothing is forgotten. Also, be sure sellers are aware of the importance of open communication and to follow the contract exactly as written. If they do not, this may also cause the closing date to be postponed.