If you're in the market for a new home, it's likely you've come across properties that are part of an HOA, or homeowner's association. An HOA is essentially an organization that makes and enforces the rules for planned communities, such as developments comprised of condominiums, town houses or single-family homes.
The CAI, or Community Associations Institute, provides resources and education to homeowner's associations worldwide. According to the CAI, about 26 million homes across the United States are managed by HOAs.
Before purchasing a home that is governed by an HOA, it's important to know the pros and cons of living in such a community. You also have to understand the rules and consequences you could potentially face if you choose not to follow said rules.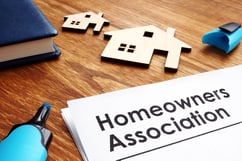 Let's focus on the pros first:
Living in a community governed by an HOA will often allow access to amenities you might not have otherwise. These amenities could include tennis courts, gyms, swimming pools, golf courses and more.
You will also have many conveniences. Typically, the HOA takes care of lawn maintenance, snow removal, roof repair, trash and recycling pickup. They also maintain and repair electrical systems, elevators, plumbing, heating and air conditioning.
The HOA also has representatives that will help resolve conflicts between you and neighbors, should they arise. For instance, if there are noisy dogs, rude or inconsiderate neighbors or someone using your assigned parking spot, you simply need to contact the HOA and they will handle the situation for you.
Now let's review some of the cons of buying into an HOA:
While buying into an HOA will allow for access to many amenities and conveniences, you will also be paying fees to enjoy those perks. The fees assessed, which are many times called dues, can be very expensive, depending on the community and the area in which it's located. These fees are in addition to what you pay for your mortgage, property tax and homeowner's insurance. Consequences to not paying these mandatory fees are similar to the consequences of not paying your mortgage… you may find yourself with a lien on your home, or even face foreclosure in extreme circumstances.
You have to deal with the rules and restrictions put forth by the HOA. These include strict rules on paint colors you can choose for the inside and outside of your home, guidelines on how short you can cut your grass, quiet time hours, restrictions on toys left out on lawn, and restrictions on the type of pet you have and the size of the pet.
You might also be faced with additional fees, aside from the HOA fees you agreed to. If the HOA doesn't have enough cash reserves for repairs or needed projects, they have the right to impose an assessment in order to raise the money needed. This is important to keep in mind since many HOAs are in fact low on cash reserves.
Its clear that HOAs have both advantages and disadvantages, so it really just comes down to personal preference and what is most important to you. If you are one who lacks the time or ability to maintain your home and prefers to have amenities and conveniences at hand, then the pros might outweigh the cons. However, if you do not want restrictions on how you decorate your home, on the type of pet you own and don't want to pay for the extra fees for things that you can, and prefer to do yourself, then buying into an HOA just might not be the right decision for you.