Homeowners have less and less time to worry about the upkeep of their home, especially some of the larger, more time consuming, labor intensive, expensive jobs. Here we outline options to consider that are low-maintenance and durable when you are facing your next upgrade or repair.
ROOFING: Rethink your roof. This day and age, we have a lot more roofing choices than just the traditional asphalt shingle roofs. If you are looking to stay with asphalt shingles, consider upgrading to the newer asphalt shingles with double thick tabs made with weather grade asphalt between the layers.
There are also roofing tiles made of cement and fiber which are made to look like slate and tile (but less expensive than slate and tile) and are known to last longer than your traditional roofing tile.
If you are in the market to replace your roof and looking for an option in which you will not have to worry about replacing it again for a long time (like 40-60 years!) then you might choose consider a metal roof. While it is more expensive initially, the investment will pay off over time since your will not have worry about leaks, repairs or replacement. Metal roofs are available in various colors and styles to choose from, and are rust proof and fire resistant.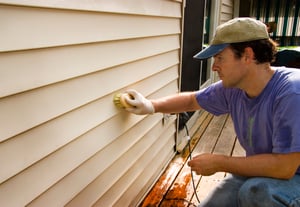 DECKING: Adding a new deck or replacing an existing deck? Consider bypassing the traditional wood decking and investing in composite decking. Wood decking is known for warping and splitting and needs annual sealing to keep it in decent shape. Composite decking is a low-maintenance alternative, which does not need sanding, painting or annul repairs. While the initial investment is pricier than traditional wood, your composite deck will last upwards of 25 years.
PORCH/DECK RAILINGS: If you have not had to replace your deck or porch in quite same time, you might not be aware that PVC Railing Systems are an option. While similar systems have been on the market for quite some time, the quality and appearance were lacking. These newer systems look like your more expensive wood options, come in a variety of colors, are rust proof and covered with weatherproof PVC. Unlike wood railing, the PVC Railing Systems will last approximately 50 years.
GUTTERS: Gutters are always a source of contention for homeowners. At least once a year, if not more, homeowners need to clean out their gutters to keep them free of leaves and other debris. Leaving debris in the gutters is especially worrisome once the temperature starts to fall. If you do not have a free flow of water through your gutters, you will likely end up with ice dams, which can lead to expensive repairs to you roof, and sometimes repairs to the inside of your home as well. The LeafGuard Brand gutters are built with a curved one-piece seamless aluminum hood that allows the water to flow through, but prevents debris from entering.
SIDING: Wood siding on your home? You know keeping up with the maintenance can be a dreadful task. The wear and tear on wood siding from weather, and the need to paint your home every so many years (to keep it looking good but also to prevent further damage) is expensive and labor intensive. If you find yourself in a position to upgrade your siding, you have a couple of options to explore.
Fiber-Cement Siding, which is actually a blend of cement, sand and cellulose, is considered a high-end option for your siding needs. The benefits of Fiber-Cement siding are numerous.
Low-maintenance: has a baked-on paint finish, which is guaranteed to last up to 15 years
Durable: fire-retardant, rot-proof, insect-proof; holds up against the weather
Multiple options: available in horizontal lap boards, shingles, vertical board-and-batt; the appearance is almost identical to real wood graining
Lasts for 30-50 years.
If Fiber-Cement siding is financially out of your reach, opt for the Vinyl siding, which is a less expensive option for your siding needs but still more durable than wood siding. Vinyl siding is also low-maintenance, does not require finishing, is color infused so as not to have to repaint and is rot-proof and also insect-proof. Vinyl siding will also last considerably longer than wood, providing a lifespan of approximately 35 years.
Contractors build homes with most of these options included. However, if you are not buying a newer home or currently living in a home that needs some upgrades or repairs, do not overlook these options. They are a bit higher in price, but will save you greatly in time and maintenance fees over the years.