Septic Systems in Massachusetts are regulated by Title V through the Massachusetts Department of Environmental Protection (MassDEP). The regulations set forth govern all aspects of septic systems, from initial inspection to operation of septic systems, as a way to protect our environment.
If you are planning to sell a home that does not have public sewer, it is imperative to understand the rules regarding Title V as you cannot close without a passing inspection of your septic system. As a potential buyer, it is also important to understand these regulations as the process of purchasing a house will be halted if inspection does not pass. The inspector you hire must be licensed by the state and town. Your local Board of Health (BOH) will be able to provide a list of licensed inspectors available to you.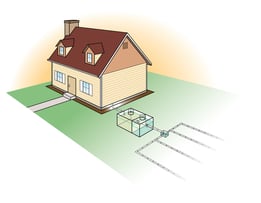 So what happens during a Title V inspection?
All aspects of your septic system are looked at, including your cesspool (underground container for temporary storage of liquid waste), leach field (trenches with perforated pipes and porous materials for drainage), distribution box (the D-Box receives waste from the tank and distributes the waste to the leach field) and septic tank. The inspector records information such as water usage and number of bedrooms in the house. This bit of information is important because if the house has 4 bedrooms but the system has capacity for only 3, then the house must be listed as a 3 bedroom house which will have an impact on your property value.
Once the inspector has completed his task, the results are submitted to the town's Board of Health with a pass, conditional pass or fail on the system. A conditional pass indicates a condition must be met, such as repair or replacement of the D-Box. A fail indicates the system must be repaired or completely replaced prior to closing. If the homeowner decides not to sell after a failed inspection, they must still complete the repairs within 2 years unless the reason for failure is a health hazard, which means the repairs must be completed immediately.