Many first-time home buyers find that the perfect home is out of their reach. The house prices, along with the down-payment expected, closing costs and inspection fees are too much to consider, and that is why many start looking for the perfect fixer-upper instead. According to a survey done by Realtor.com, nearly 60 percent of first-time home shoppers that are ages 18-34 say they would consider a house that needs renovations. A key factor for this is likely the expense of buying newer, turn-key houses.
If a fixer-upper appeals to you, there are some tips that might be helpful in pursuing this option.
Not only will you find that fixer-uppers are priced lower than turn-key homes that do not require much attention, but often times you are able to get a loan that requires a lower down-payment and lower credit score since the loan requirements are more relaxed.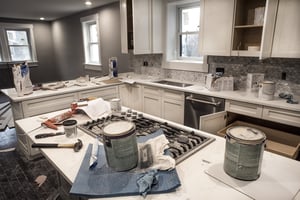 If this is an option you are seriously considering, speak to lenders about the various types of renovation loans that you might qualify for. When considering renovation loans, it is important to keep in mind that some of these loans require you to hire a contractor to complete the work, while others allow you to do the work yourself. Also, renovation loans often require additional inspections and appraisals in order to protect the lender and the buyer.
Below are brief summaries of renovation loans that are out there:
HomeStyle Loan: This loan is backed by Fannie Mae, requires a higher than average credit score, but allows for regular renovations as well as "luxury" renovations such as installing a pool.
VA Renovation Loan: This loan is through the Department of Veterans Affairs, and a contractor that is VA-approved is required in order to qualify for this loan.
FHA 203(k) Loan: This loan is through the Federal Housing Administration, or FHA, and qualifies buyers with lower income and lower credit scores that would not typically be approved for conventional loans.
If the home you find needs major renovations, be sure to have a contractor do a walk-through with you before you purchase so you know how big of a project you can expect, how expensive the project will be, and how long the project will last. And ALWAYS anticipate it will cost more and last longer than projected.
What needs to be considered if you are planning on doing the work yourself:
You need to determine what you physically (and mentally) can handle, and what you cannot. While some renovations might appear to be fairly easy on TV or online, the reality is often much different.
If you are looking at replacing your flooring, changing fixtures or painting, then yes, most people can handle these projects with relatively little stress and time. However, if your project includes structural changes, a new roof, new plumbing and changing your electrical components, then these should really be done by a contractor.
Regardless of if your renovation will need a contractor or if you are planning to do most of the work yourself, any time you are considering buying a fixer-upper it is important to not only schedule a regular home inspection, but you should also consider specialized inspections that focus on the roof, pest problems and structural issues to be sure all issues are brought to light.
As you can see, there is a lot to consider when in the market to buy a fixer-upper. Decisions need to be made on financing, contractors vs DIY, inspections, available time frame and costs. Where ever your decisions lead you, be sure to have realistic expectations on the process and final outcome in order to be happy once the dust settles.