You have decided to take the plunge and buy a new home…congratulations! What most people focus on when looking for a new home is if the cost of the home itself, the listing price, fits their budget. They start doing google searches and watching the realty sites to narrow the search down to homes within a certain price range. While this is certainly a logical place to start, the price alone should not be the be-all and end-all factor when considering your new home. Many other factors need to be considered in order to see the full picture of your potential new home. Here we will take a look at additional expenses that need to be considered as well as location, land, size and age.
What will your utilities cost you? When doing your research, you need to estimate what your monthly utilities will be. For example, how is the home heated/cooled? If you are looking at a larger home, remember it will cost more for heat and air conditioning. Is the home heated by oil, electric, gas? Consider the costs of the heating method and the age of the system.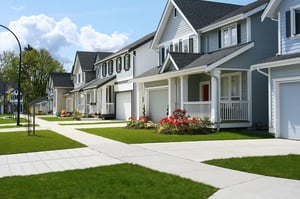 Have you considered the location of the home and whether it is suitable to your lifestyle? You might know what city or town you want to live in, but you need to take it a step further and look at the street and community the houses you are looking at are located. If you do not have any children or prefer a quiet area, living across from a playground or school might not be ideal, regardless of how perfect the home (or price of the home) might seem. Or maybe you do have young children at home… do some research and find a community with school age children that your children can play with and grow up with.
You might have found the perfect home, but does it have the land to compliment it for your needs? If you want your kids to be able to go outside and run around, make sure the property allows for that. Or perhaps the home you are looking at has a lot of land that will require weekly maintenance. Do you have the time and patience to tend to it, or the extra funds to hire someone to do it? Houses can be changed and remodeled, but the land cannot. Make sure your outdoor space works for you.
Size of the home is also important. Perhaps you found a home that falls within your price range, but does it have the right amount of rooms for the present time, as well as the future? Maybe you are considering expanding your family in the near future. If so, make sure the home has the potential to accommodate your growing family. Or maybe the home you are looking at has more square footage than you expect to need. While it is great to have the extra space, ask yourself if you will be putting it to good use and if the extra utility costs will be worth it in the long run.
Now you have considered size, land and location… but how will the age of the home influence your decision? It could be that you have had your heart set on the style and charm of an older home. While older homes have beautifully unique features that are not easily replaced, remember that it often costs more to heat and maintain older homes. Windows and doors are generally draftier than that of newer home, and you will often find that the plumbing and other systems within the home have not been updated. On the other hand, a newer home may be considerably more expensive, leaving you no option than to choose a home that is smaller than you had hoped for.
The bottom line is, you need to look beyond considering just the listing price of the home and look at the full picture. Your new home is out there, and although you might find options that fit within your initial search parameters, looking at the larger picture is key so as not to have regrets after signing papers and moving into your new space.