You have gone through all the steps to purchase your new home, which can be a grueling process. From finding a home you love, to securing financing, to enduring inspections and negotiations, to surviving the closing… you have gone through this process pondering ways to make the home "yours". Since it is unlikely you have purchased the perfect home, which needs no upgrades, improvements, or finishing touches, you have likely made a laundry list of tasks to tackle when you move in. But instead of jumping in and tearing things apart, take a break and wait to renovate.
While you will want to move forward with pre-existing electrical and plumbing issues and fix any safety issues, it is best to hold off on renovations for at least 6 to 12 months, and below are some of the reasons why.
Allow yourself to take a break. Purchasing a home can be exhausting—mentally, physically, and financially. When planning a renovation, you've gone from finding and hiring financial advisors, inspectors and lenders to interviewing and hiring contractors, interior designers and architects. Give yourself time to decompress and enjoy your home before diving back into negotiations and planning.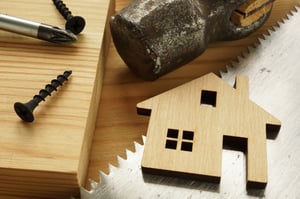 Live in the home. Get a true feel for the home. Determine the flow of the home. People often find that after living in the home for some time, things they thought they wanted changed and are not so important anymore. For example, the entryway you assumed would be a waste of space might turn into a perfect area for kids to store backpacks. So instead of tearing down the wall to make an enlarged living area, you might decide to keep the wall there (saving time and money) and create a purposeful space that gets used daily.
Consult with everyone living in the home. How does the flow affect day-to-day living? Do some rooms have adequate lighting in the summer months but appear too dim in the winter months? Do some rooms heat up too much in warmer months with the natural lighting, while others remain too cool in the colder months? If you rush into renovations before living in the home through each season, you might make the wrong changes, or inefficient changes, then have regrets later. Living in the home for 12 months before starting renovations gives you a chance to experience the home through all seasons to determine lighting, heating and cooling, and usefulness of the layout.
Once you have waited the recommended six to twelve months to get a feel for exactly what you want out of your project, allow time to work hand in hand with your designer and/or contractor to put you plan into motion. Of course, you want your project to complete within budget and the time frame you expected, however it is important to remember that most projects complete over budget and take longer than originally anticipated. It is wise to delay your project longer if you are being quoted exactly what you are current budget allows or if you are under strict time constraints.
As you can see, waiting will allow you time to finalize your dream plan, rethink the changes you thought were top priority before moving in and save money for your project. Even if there are some aspects of the home that you positively believe must go, time has a way of changing perspective. Allow yourself to enjoy your new living space and find the nuances that you might find you love.